Vintage Furniture, Uniquely Transformed
I specialise in transforming vintage, mid-century and classic wooden furniture, turning them into unique pieces with personality. It's all in the detail at Shel's Shabby Chic.
My own creations are available in my Shop, or I can customise your own furniture to order, to match your décor or to be a bespoke one-off statement piece. This could be a treasured piece, handed down through your family, or a pre-loved piece that I have sourced and reimagined.
My passion is creating unique hand crafted pieces of furniture with personality, using a range of techniques and materials including mineral paint, decoupage, gold leaf and hand painting.
Every transformation is bespoke and no two pieces are the same ... they are as unique as your imagination; all created with love, care and attention to detail.
If you want to learn how to transform your own furniture, I offer Furniture Painting for Beginners Workshops from my Studio in Stotfold SG5, on the Hertfordshire / Bedfordshire border.
Click a link or a picture below to find out more: Transformed Furniture, Furniture Painting Workshops, Baubles & Bubbles paint parties, Totally Unique Tableware & Handmade Gifts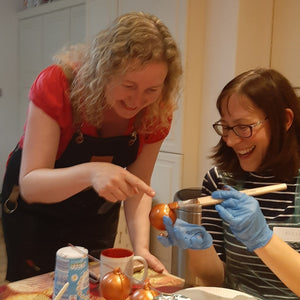 ARE YOU READY TO BAUBLE?
Come and join Michelle in Stotfold this November or December for a seasonal Baubles & Bubbles Christmas bauble painting party.
It's going to be such fun!
Friends, fun, paint, glitter and a glass of prosecco.
Join a small group with a friend or two, or request your own private party.
Are you ready to bauble?
I'm ready to bauble!
Furniture Painting Workshops
Have fun and learn all the core skills, tools and techniques you will need to transform your own furniture in a 1-to-1 Furniture Painting for Beginners Workshop at Shel's Shabby Chic in Stotfold.

Working on your own small piece of furniture, you will learn how to thoroughly prep, perfectly paint and smoothly finish your furniture.

Bring your piece, a pen and a notebook. I'll provide the rest!  
Find out more